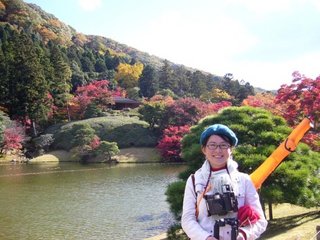 ※Fig.1 Helping out with field work at Shugakuin Imperial Villa, Kyoto.
Greetings, everyone! My name is Siew-Fong Chen, a PhD student in the Laboratory of Landscape Ecology and Planning in Kyoto University. I am currently working on the multiscale ecoregion delineation for Japan, looking exclusively at national scale. I am very happy to be part of the JALE conference in Tottori, and I appreciate your interests and comments/advices on my poster.
One of the main motivations for attending the conference was.....Tottori. It has been one of the places in Japan that I wanted to visit most, but never had the chance! This came as the perfect chance and I wasted no time in applying! Tottori is so beautiful and intriguing, and is dangerously rivaling Kyoto as my favorite prefecture...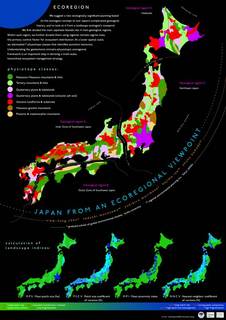 ※Fig.2 Simplified version of my poster.
In my poster, we suggest a new ecologically-significant planning unit based on ecoregions adjusted to suit Japan's complicated geological history, and to analyze them from a landscape ecology point of view. First, we divided Japan into four main geological regions and within them, delineated physiotope-based ecoregions using regional climate regime as main controlling factor at macroscale. Differences in landform and geology alters the influence of climate of a region, therefore we derived 7 landform-geological classes and characterized each geological region. We quantified the landscape composition and configuration and found that each region has different patch dynamics and mosaic complexity in which the extent of Neogene sedimentary basins and Quaternary strata deposition play a big role. I am still in the middle of my research, and I hope to deeper understand the geotectonic-climate-physiotope framework and devise a multiscaled hierarchical planning units for Japan.
During the preparation of this poster, I was also busy preparing for another conference, not to mention my research progress presentation for my lab. As you can imagine, I felt like I lost my sunshine and all hope, which subsequently led to a dark and depressing black poster… I am usually a very cheerful and optimistic girl, so please don't let my poster mislead you! :-)
That's all for today, and thank you for the wonderful chance to share. Please email me at siewfong.chen(at)at7.ecs.kyoto-u.ac.jp for a copy of my poster. I welcome all comments/suggestions.
---
・プロフィール
名前 CHEN Siew Fong (チェンシュフォン)
1981年生まれ。マレーシアのクアラルンプール市出身。現在,京都大学大学院○地球環境学研究科○博士課程○2年在学中。研究テーマは日本のエコリージョンです。趣味・興味・関心のあることは旅行、自然景観、持続可能な生活、ランゲージ、デザイン、料理。